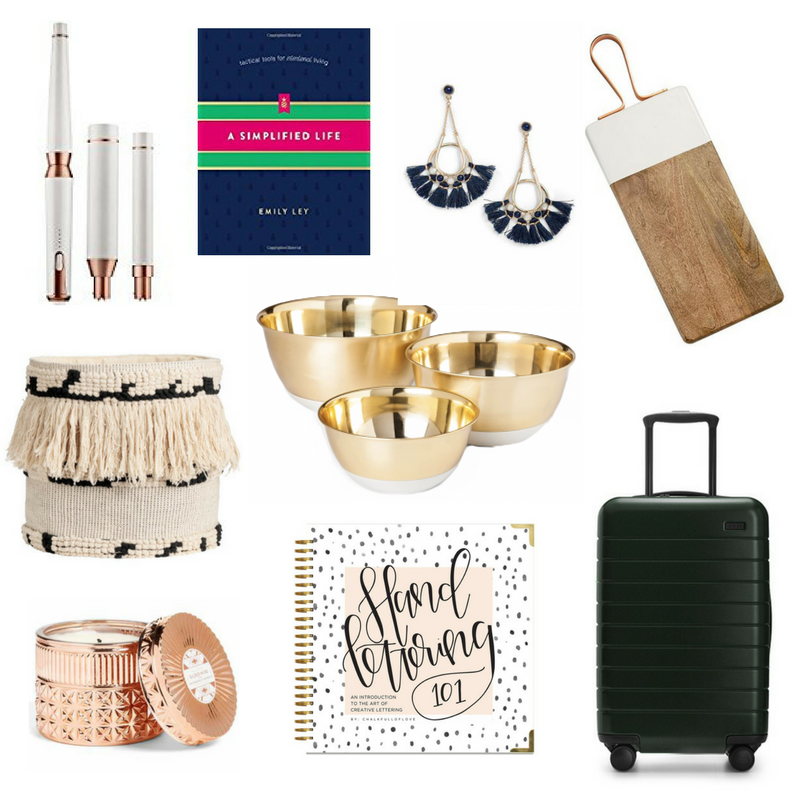 If you're like me you have several different curling wands/irons all in different sizes. I have at least 4 of them that take up space and clutter up my bathroom. That is why this T3 interchangeable styling wand is at the top of my list. It's sleek, stylish and comes with three different barrel sizes! I can not say enough about Emily Ley's newest book, A Simplified Life. I am huge fan of hers and blew through her first book, Grace Not Perfection. I pre-ordered her newest book and devoured it in 2 days! This book is one of my favorite gifts on this list, it is filled with practical, and attainable ways to simplify all areas of your life. Who doesn't need that?! Please gift this to your mom, wife, friend, sister, teacher or neighbor. You will be giving them so much more than a book, you will be giving them a way to simplify their life so that they can enjoy what truly matters. This really is the gift that keeps on giving!
Jewelry is always a well received gift and I thought these gold and navy tassel earrings were so fun! I have a thing with beautiful cutting boards, and now there are so many beautiful options…wood, marble, slate. I really love the copper handle on this cutting board from Mud Pie. This storage basket is both stylish and functional. It's perfect for kids toys, blankets or even a plant. When I saw these gold mixing bowls I knew I had to have them.
This Grapefruit/Prosecco Candle smells divine and the packaging is just as beautiful as the scent. Candles are great hostess gifts and they make perfect socking stuffers too. Why not gift someone with a fun, new hobby?! With this Hand Lettering 101 book you or the person you're buying for can learn faux calligraphy with no experience needed, how fun is that?! I received this Away Carry-On luggage in white for my birthday and I love it. I have gotten so many compliments and inquiries when I travel with it. It's stylish and super efficient. It has double-wheel spinners making it the smoothest suitcase I've ever owned. There's a removable internal laundry bag, TSA-approved lock and a built-in battery that can charge any USB device. Happy shopping, friends.